More info
Looking for contact lenses that are a bit more...unusual?
Crazy Lenses are fun, affordable lenses available in a variety of unique
designs. Crazy Lenses are available in "Plano" only. Crazy Lenses are produced
using our UltraSync® technology, so you can be sure Crazy Lenses will also give
you all the quality and comfort you've come to expect from CooperVision.

You'll also be glad to know that CooperVision adheres to all
FDA guidelines for the manufacture and sale of cosmetic lenses. After all, it's
important to remember that all contact lenses including Crazy Lenses are medical
devices that require professional care, instruction and supervision for safe and
successful wear.
p>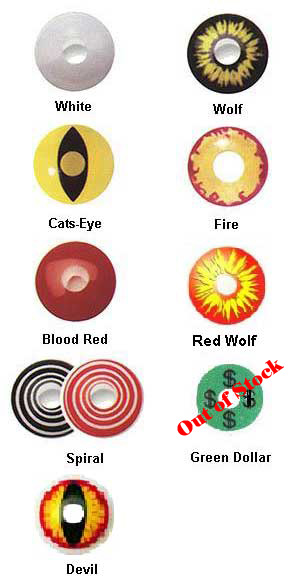 Technical Details
| | |
| --- | --- |
| Material | Methafilcon A |
| Water content | 55% |
| Technology | UltraSync Fully cast moulded |
| Design | Aspherical |
| Oxygen portability | 24 |
| Oxygen penetration | 17 |
| Center thickness | 0.09 мм |
| Edges thickness | 0.07 мм |
| Optical zone | 8.0 мм |
| Baseline curvature | 8.6 мм |
| Diameter | 14.2 мм |
| Diopters | plano (0.0 D)  (ask for diopters) |
| Colors | shown on picture |
| Usage | Periodically |
| Package | 1 lens |